The Best of 2021: SeaBlazeX2 LED Underwater Lights
As an editor of commercial marine magazines plus a recreational boater for nearly three decades, I have heard more than my fair share of horror stories in regards to procuring new and replacement products based solely on price. When it comes to drilling holes below the waterline on my personal boat, I am particularly selective.
When time came to add some decorative underwater lighting to my 2009 Chapparal 350 Signature, based on recommendations from friends and colleagues, I opted for Lumitec's SeaBlazeX2 full-color Spectrum lights, a lighting unit that delivers 100% on its stated promise to "deliver exceptional performance with more than 6,000 lumens of output," offering a nearly limitless palette of intense, vivid colors, complemented by a relaxing color cycle mode, and a solid bronze construction.
The Lumitec SeaBlazeX2 is surface mountable and has no external drivers, and at the start of the 2021 season I entrusted the installation job to Charlie Leach, owner of Bayport Marine, Bayport, NY, my long-time 'go-to' for all matters on my personal boats, as it would be difficult to find a more knowledgeable and trustworthy boat mechanic team on the south shore of Long Island, NY.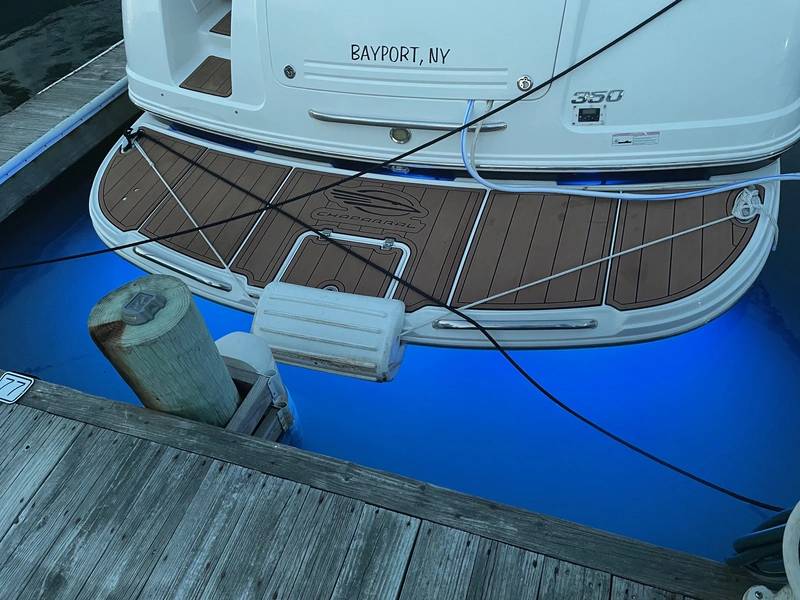 Lumitec's SeaBlazeX2 full-color Spectrum lights, a lighting unit that delivers 100% on its stated promise to "deliver exceptional performance with more than 6,000 lumens of output," offering a nearly limitless palette of intense, vivid colors. Photo: Greg Trauthwein