Vesper Marine Begins Shipping New VHF Radio
Yachting Journal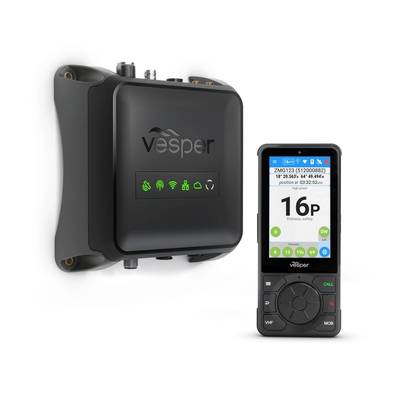 Marine electronics manufacturer Vesper Marine announced its new VHF radio Cortex has completed certification requirements and has started shipping to distributors in late July.
Cortex is the world's first marine VHF radio with wireless touchscreen handsets, built-in Class B SOTDMA smartAIS transponder and remote vessel monitoring and is available through Vesper Marine's network of distributors and dealers.
"With the intention of completely changing the paradigm of on board VHF communications, the development of Cortex has been years in the making," said Carl Omundsen, Chief Technical Officer, Vesper Marine. "We are delighted to announce Cortex has received regulatory approvals for North America, Europe and Australasia (FCC, IC, CE). Boaters will soon get the full benefits of the most advanced, feature-rich VHF on the planet."
The handset's touchscreen makes VHF functions easier to use. For example, touching a vessel onscreen and pressing "call" makes a DSC call directly to that vessel. Cortex continuously calculates crossing situations and even allows trial maneuvers – all while a boater talks on the VHF radio. Up to 10 handsets, either tethered or portable, provide up to 85 dBA of crystal-clear audio and are built to survive the harsh marine environment. A 10W output enables audio and alerts through an external speaker, even while handsets are turned off. Cortex includes dual-watch, favorite channels and one-handed operation via the click-wheel. Pressing the dedicated man overboard (MOB) button activates a track back mode on all handsets and marks the MOB waypoint on NMEA 2000 connected multi-function displays (MFDs).
Cortex also includes remote vessel monitoring, enabling boaters to know their boat is anchored securely while enjoying a visit ashore by checking on the Cortex Monitor app, available from the Google Play or Apple App Store. Standard monitoring is available at no charge to all owners. An upgrade plan offers more advanced monitoring features such as Anchor Watch, control of on board devices and real-time updates.
"As if bringing to market the most advanced VHF in the world wasn't enough of a challenge, COVID-19 certainly threw a curve ball at the team," said Brady Cox, CEO, Vesper Marine. "Having completed our rigorous in-house and third-party testing and certification, we look forward to shipping Cortex to the many customers eagerly awaiting its arrival."
Engineered for marine durability, the tethered Cortex H1 and portable Cortex H1P handsets feature a generous 4-inch Gorilla Glass multi-touch display. Wet finger and glove capable, the touchscreen is optically bonded for wide-angle and sunlight viewability, even in the harshest midday sun. The Cortex M1 hub is enclosed in a unique thermal polymer housing without risk of corrosion and is completely sealed with an IPX8 (submersible) rating. It includes an integrated no-loss splitter so a single VHF antenna can be shared by Cortex and an existing VHF radio. All ports are galvanically isolated to protect from corrosion, electrical surges and ground loops. The Cortex M1 is available separately as a full-function Class B SOTDMA AIS with remote vessel monitoring and control and is VHF-ready.