Vittoria Yachts to Debut VELOCE 32 RPH in Cannes
Yachting Journal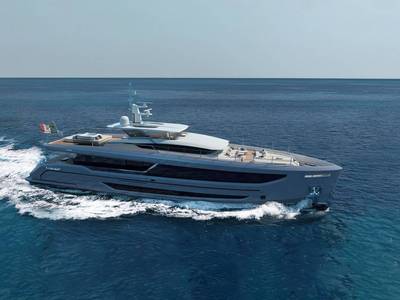 Vittoria Yachts has welcomed a brand new division, Veloce 32 Rised Pilot House, dedicated to the design and construction of yachts at the Adria naval shipyard, that fully embodies the spirit and style: a typical Mediterranean ship, inspired by fast patrol vessels, designed for speed but also for long journeys at sea.
The company is staging its debut at the Cannes Yachting Festival 2021 with Veloce and its other three Yacht divisions, scheduled from September 7 to 12, 2021.
Designed and built by Hydro Tec engineer Sergio Cutolo, Veloce 32 RPH has been created for ship owners who want to experience their vessel to the full all year round with high quality navigation guaranteed. The vertical bow, combined with the unique lines of the hull, give the boat its characteristic style, while allowing for plenty of space in the lower deck area. The gunwale is raised up, both to make the bow and ship's sides look more masculine and imposing, and to help create a more private and contained environment.
The sundeck canopy protrudes towards the stern to make the area more enclosed, meaning the boat can be enjoyed in all seasons, not just in summer. Veloce has plenty of large open spaces and a spacious bedroom on the main deck. The wide open decking and balcony that lead out from the dining area allow for plenty of ventilation and enhance the feeling of being out in the open air. The wheelhouse is deliberately low-profile, with windshields featuring a unique reverse profile.
---
Main Particulars
Length: 32 m
Beam: 7.2 m
Hull: Semi-displacement
Speed, max: 20 knots
---
The Veloce's interior is designed to be light, fresh, and modern with flush connections to the exterior spaces. This has been achieved by incorporating seamless sliding doors on the main deck which pack away completely to leave the views from the dining to the aft cockpit uninterrupted.
All the guest areas have been designed with large view framing windows which are enhanced and defined by curved accents that run throughout the yacht.

"We are proud to present, just a few months after embarking on this challenge, our fourth division," said Michele Zorzenon, CEO of Vittoria Yachts, "We will start building Veloce from next October, but we will be presenting the design to the public at the biggest boat show in European waters, the Cannes Yachting Festival."