Wagner Hired to Lead Derecktor's Florida Sales Team
Yachting Journal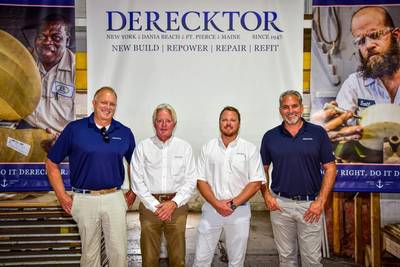 Derik Wagner recently joined Derecktor Shipyards' executive team as director of sales, bringing with him more than 20 years of global sales, business development and management experience. He will lead the Derecktor Florida sales team from Derecktor's Dania Beach superyacht facility as the company prepares to bring its new Fort Pierce location online this summer.
"Our company is growing and fortunate to hire someone of Derik's caliber," Paul Derecktor, president of Derecktor Shipyards, said. "We are confident in his ability to lead our sales team as we expand into the megayacht and large sailing yacht market."
Prior to joining Derecktor, Wagner spent more than 15 years in the superyacht industry leading global sales and business development. He successfully positioned MTN Satellite Communications, as the go-to broadband company, thus providing the world's largest superyachts with internet and satellite communication solutions.
As a member of MTN's executive team, Wagner helped package and sell MTN to EMC, Emerging Market Communications. Following a successful acquisition, Wagner went on to start a consulting firm, Wagner & Associates, providing technical and business development consultancy to superyachts and companies within the superyacht industry. He expanded his portfolio of services to into cyber security through Digital Wave, a company dedicated to securely protecting and connecting the critical assets of ultra-high net worth individuals and their superyachts, private jets, estates and businesses.
In 2019, Wagner joined Global Yachting Group as Managing Director of Pinmar USA, Inc. where he led management and commercial development for the company's U.S.-based enterprises. During this time, he helped strategically expand Pinmar's operations in Fort Lauderdale, Fla.; Riviera Beach, Fla.; and Savannah, Ga.; in an effort to better to support the largest yachts visiting U.S. waters for refit.
Throughout his career, Wagner has served in various leadership roles within the superyacht industry's most prestigious professional societies, to include International Superyacht Society, U.S. Superyacht Association and the Marine Industries Association of South Florida.