Yacht Tech: New Features for Dockmate Wireless Remote Control System
Yachting Journal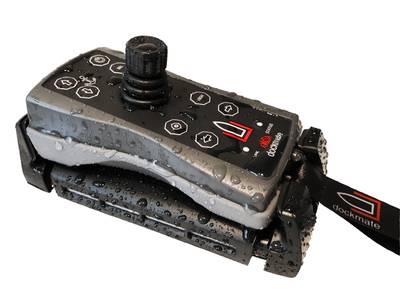 Dockmate announced its next-gen remote control transmitters and an all-new mounting option with a custom-designed fixed-mount, wireless charging Cradle.
According to the manufacturere, key advances in the upgraded hardware are an easier-to-use interface for the TWIN+ touch pad remote control and added wireless charging capability. The next generation of Dockmate remotes also gain the advanced functionality of a new vibration response, which means that they now have three types of feedback: visual (LEDs), audible (buzzer) and tactile (vibration), for added safety and a more intuitive user experience.
With the new Dockmate Cradle fixed-mount, wireless charging pad, users no longer have to choose between a fixed joystick or a remote control.
The combination of the Dockmate TWIST joystick remote and the new Dockmate Cradle enables a new feature: Fixed Joystick Mode. Once the TWIST joystick remote is placed in the Cradle, it can be used just like any other third-party joystick docking system. The innovation is that by taking the remote out of its Cradle, users immediately have the flexibility of a wireless remote control.
Developed specially by Scanstrut to accommodate the Dockmate remote, the Cradle is also waterproof (IPX6), UV-resistant, and has an anodized aluminum chassis. It can be mounted anywhere inside or out, like on the flybridge, and it can be used to charge cell phones as well. The Cradle is perfect for frequent users, keeping the remote in an easy-to-reach location and ensuring the unit has a full battery and is ready-to-use.