YSA Design Chosen for SeaDream Global Yachting Club
Yachting Journal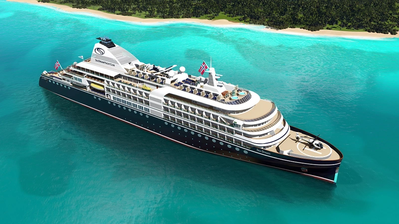 YSA Design was chosen as the design partner for the SeaDream Yacht Club vessel SeaDream Innovation.
Innovation will offer yachting lifestyle standards to guests occupying 100 ocean-view suites, developed around a one-to-one crew/guest ratio, five-star dining, generous outdoor spaces and inspiring itineraries. Formal announcement of the construction contract to shipyard group Damen allows YSA Design to disclose its pivotal role.
YSA Design joined initial discussion of design ideas with the owner, before being engaged to deliver the GA (general arrangement), concept and detail designs, and follow up work, adds Jungård. The Oslo-based design company will design all public spaces and accommodation except crew areas.
When she enters service in September 2021, SeaDream Innovation will introduce the concept of 'Global Yachting' to the SeaDream Yacht Club experience, with plans to sail to all seven continents in the first year and visit over 200 ports in 49 countries. Guests will visit remote destinations, including Svalbard, the Northwest Passage, Antarctica, the fjords of Norway, Japan, New Zealand, the Fiji Islands and the Great Barrier Reef.
As a design group, YSA Design and its forerunner company Yran & Storbraaten Architects have been closely associated with SeaDream Yacht Club since the luxury ship owner's foundation in 2001, taking responsibility for designing the classic yachts SeaDream I and SeaDream II.