ASA Electronics Introduces Polk Sound System
Yachting Journal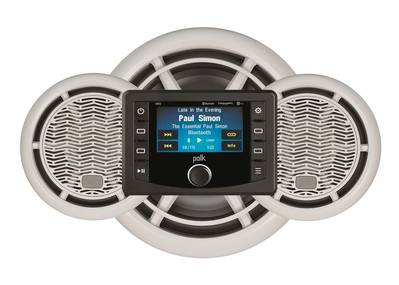 ASA Electronics has introduced a new marine sound system, the Polk Ultramarine Complete DSP Sound System.
The system includes a brand new Polk UM2 stereo as well as a full suite of powerful Polk speakers and subwoofers. What sets this system apart is the Polk Digital Signal Processor (DSP) that uses a patented algorithm to automatically adjust and remaster music in real time.
The Polk Ultramarine Complete DSP Sound System is a fully matched system, meaning each element is specially calibrated for each boat model to work together in the most efficient way possible. ASA technicians work with boat manufacturers to configure this sound system to meet their needs.
The DSP is constantly adjusting sound to compensate for ambient noise like wind, water, and boat engines to ensure that every song sounds the way it was meant to sound.
The Polk DSP also allows for independent volume control of up to four unique zones, allowing boaters to customize the listening experience to better suit the different areas of the boat.