Burnett Heads Boat Harbor Re-development
Yachting Journal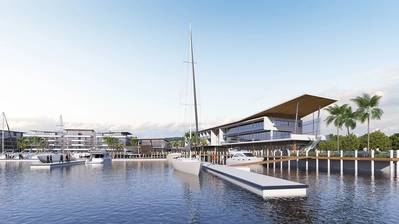 Sydney based BH Developments QLD Pty Ltd (BHD) has officially lodged a development application with Bundaberg Regional Council for a integrated marina and resort project, set to transform the coastal town of Burnett Heads into a vibrant tourism, lifestyle and leisure precinct.
The proposed new Gateway Marina development is a high quality, mixed-use marina village located on the south western shore of the Burnett Heads Boat Harbor.
Plans include a 318-berth state of the art marina with automated 24-hour fuel dock, linked to a vibrant marina village offering water's edge short stay accommodation, boutique retail stores, cafes and restaurants, gymnasium, offices and yacht club.
An adjacent residential precinct with low-rise apartments, waterfront villas and a hotel resort and convention center with eco-villas all linked via a public waterfront boardwalk are also part of the plans. Multimodal bike and walking paths with green open spaces and BBQ pavilions will offer significant amenity for residents and visitors, contributing positively to the existing community of Burnett Heads.
Bundaberg Region Mayor Jack Dempsey said if it's approved the proposed major development would draw more tourists to the area.
Expressions of interest are already being sought for the first 58 marina berths that will be designed to accommodate single and multi-hull vessels up to 27 meters and commercial vessels up to 32 metergaes. In addition to berthing opportunities, Gateway Marina will also be a hub for a unique blend of maritime and tourism activities.
Water-based development is already approved and harbor dredging is underway.
Operations Manager Gary Milne said that environmental considerations have also played a big role throughout the planning process.
Announcement of the new Gateway Marina comes off the back of other recently announced initiatives designed to provide growth to Burnett Heads including the $35M development of a marine industry site being undertaken by Pacific Tug and Bundaberg Regional Council and the $9M Burnett Heads town center redevelopment which is close to completion.